Meet the Fellows: Karen Mawdsley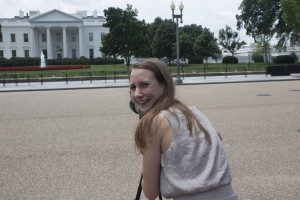 NAME: Karen Mawdsley
SCHOOL: University of Maryland, 2015 graduate
BEFORE NEWS21: I worked as an editor for the University of Maryland's award-winning student newspaper, The Diamondback. I also interned with The Herald-Mail, The Baltimore Sun, McClatchy-Tribune and Capital News Service. Alongside my journalism experience, I've explored my interest in the nonprofit sector through volunteering as well as internships with the University of Maryland Graduate Student Legal Aid Office and the National Association for the Education of Young Children.
WHAT ARE YOU WORKING ON? I am looking at the legalization movement as a whole, legalization in Washington, D.C., the relationship between women, minorities and cannabis, and children and marijuana. I am also part of the web design and development team.
FUN FACT: I love volunteering and being involved in my community. Last year, I was a recipient of the President's Volunteer Service Award.
CONNECT WITH ME: @the_mawdster on Twitter. You can see more of my work on my website at kmawds.wordpress.com.