Arizona tribes leery of legalization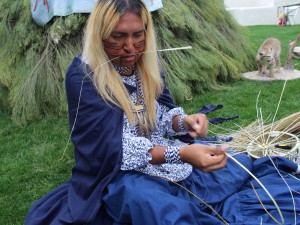 By Lex Talamo
@News21
PHOENIX – Native Americans have the right to legalize the use of marijuana on their own lands, but many tribal members in Arizona told News21 they have no plans to do it because of the "message" it would send to their youth and skepticism about federal policy.
The Hualapai, Kaibab Band of Paiutes and Cocopah Indian tribes said in interviews that marijuana use conflicted with their cultural values.
"We want to send a clear message to the youth," said Roland Maldonado, chairman of the Kaibab-Paiute tribe, adding that legalization sends a mixed message about drug use. "It's not part of our cultural beliefs," he said.
The Cole Memorandum, approved by President Obama in December, allowed Native American tribes to decide whether they would legalize. The eight Arizona tribes that responded to News21 also included the Ak-Chin Indian community and the Yavapai-Prescott, San Carlos Apache and Pascua Yaqui Tribes.
"Our council is aware of it, but we haven't seriously considered it at this time," said Delia Carlyle, tribal council member of the Ak-Chin Indian Community.
Attorney General Alfred Urbina, of the Pascua Yaqui tribe, said of major concern to tribes are inconsistencies in policy and fear of federal prosecution.
"The federal government's memo says they won't prosecute at this time," Urbina said. "But it's a policy decision, not a change in the law. The policy could change tomorrow."
The Tohono O'Odham Nation said they had no comment.
Not everyone in Indian Country opposes legalization. Lorenzo Curley, a resident of the Fort Defiance Reservation and a member of the Navajo and Apache tribes, said that marijuana, when used properly, doesn't pose a threat to Native culture.
"There are so many layers to bringing our culture back," Curley said. "We need our ceremonies. We need our traditions. Alcohol has created more destruction for our families than marijuana."
Joseph Whipple, a member of the Navajo tribe, also agreed that marijuana use was a better alternative to the alcoholism.
"Alcohol is worse than marijuana," Whipple said. "It's the worst thing that has ever come to the reservation."
In February, Havasupai chairman Rex Tilousi told Arizona Public Media he was in favor of legalizing. The Havasupai Tribe could not be reached for further comment.
Lex Talamo is a Hearst Fellow. Follow her on Twitter @LexTalamo.