What we're reading: Week 7
By Katie Campbell
@News21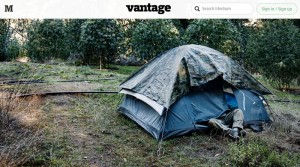 Inside the California weed industry (Pete Brook, Medium, July 2) Vantage takes a look at photographs by H. Lee, which is an alias, from her time living on a pot farm in the Emerald Triangle of California. Lee's experience and photos give an inside look at what is at stake and what has driven the battles facing the marijuana industry.
Jessica Hawkins breaks the law every time she gives her child her medical cannabis in Pa. and she has no intention of stopping (Jessica Hardin, Pittsburgh City Paper, July 8) A Pennsylvania mom went on the record about illegally using cannabidiol oil for her child even though she knows child protective services will be alerted. "It comes down to either going to jail or a funeral," Hawkins said in the article.
High-grade marijuana, delivered to your door each month (John Knefel, Rolling Stone, July 9) A California startup is delivering medical marijuana to patients in San Francisco. "Potbox" is a foray into the world of delivery marijuana in an age where just about anything can be delivered to your doorstep.
Marijuana dispensaries can't deduct business expenses, court says (Bob Egelko, SFGate, July 9) An appeals court in San Francisco ruled dispensaries cannot subtract business expenses from their total taxable incomes. This is because their products are not federally legal.
Bipartisan marijuana banking bill introduced in the Senate (Burgess Everett, Politico, July 9) Banks have been unable to partner with marijuana establishments in states where their operations are legal. This bill would "prohibit the federal government from penalizing banks that work with marijuana businesses."
Follow Katie on Twitter at @_KECampbell.